Interior Trends for 2021
Each year, the Fraser James Blinds team likes to take a look at some of the biggest interior design trends that have been popping up online and in showrooms across the country. Having all of the key trends in one place means that you have something you can reference when redesigning the interior of your home, or when you're just trying to decide on what new blinds to choose!
Sage green
If you know much about colour theory, you'll already be aware that there are warm colours (red, orange and yellow) and cold colours (blue, purple and green). We tend to associate warm colours with action and energy, which is why you will often find them used in an office or gym. Cold colours, on the other hand, we associate with calmness or serenity, making them perfect for a bathroom or bedroom – anywhere you want to relax, really.
Sage green, a wonderfully earthy colour, is about as relaxing as you can get and it's one of the biggest trends this year, so why not theme your favourite room around it? Evoke the atmosphere of a tranquil forest when you're trying to drift off with a sage green bedroom, or introduce some sage green furniture into your living room for a calming, muted look.
Textured furniture
One of the biggest trends that has appeared this year is textured furniture. While it sounds a bit obscure, textured furniture can really inject some personality into low-detail spaces. For example, you could opt for some patterned cabinets for your bedroom, or a fleece sofa and matching chairs for your living room. 
The key thing to keep in mind with this trend is to know when to use it and when to stop. Introducing too many textured features into one space could make it look busy and a bit confused, so try to stick to one textured piece per room to ensure that it has plenty of room to breathe.
Biophilia
Biophilia and biophilic design have been trending steadily for years now, and it's showing no signs of slowing. For those that don't know, biophilic design is about taking elements from the natural world and weaving them into the indoor spaces that we use daily. It could be something as simple as adding a houseplant to your bedside table, or it could be as complex as creating an entire room teeming with life. 
If the last few years have shown us anything interior-wise, it's that everyone loves biophilic design, and there's science behind that too: studies show that having plants indoors can actually lift our moods and boost productivity, demonstrating that we still have an inherent link to the natural world despite our best efforts to leave it behind.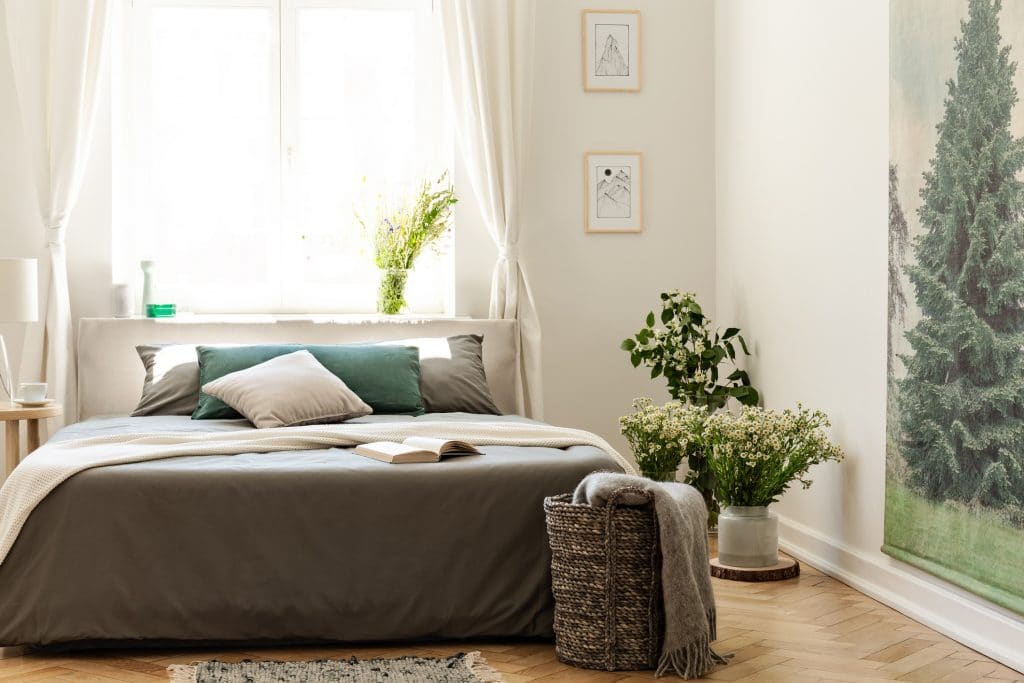 Eco-friendly design
Sustainability in design has been another vital trend over the past couple of years, and for good reason. The harsh realities of our wasteful recent past have become painfully apparent over the past decade, which is why eco-friendly design and sustainable thinking have become, not just trendy, but essential. Hopefully, in time, sustainability won't even be considered a "trend" at all, but an inextricable aspect of design itself.
Whether you want to buy furniture that's made of reused materials or simply buy used furniture for your home, you can honour this new way of thinking in any way you like.
Earth tones
In line with some of the trends that we've already seen, earthy paint tones have become a big trend this year. Whether you want to go for a soft mushroom colour or a warm terracotta, you can use these earthy shades to soften up the edges of more vibrant colours, or you can use them on your own to give the room a comfy vibe.
Fraser James Blind are the leading supplier of made-to-measure blinds throughout Leicester, Coventry and Northampton. To learn more about our products, or to enquire about a free home visit, all you have to do is get in touch.