How to Control the Temperature in Your Conservatory
If you're lucky enough to have a conservatory in your home, you will know just how wonderful summer breakfasts can be. However, you will also know just how difficult it can be to maintain the right temperature. In winter, conservatories can get bitterly cold, and in summer – once the midday sun has begun to beat down – they can get uncomfortably hot. 
The most straightforward and best-value solution to this problem: blinds. In this article, we will take a look at some of the different types of blinds and discuss which ones would be best to help you control the temperature in your conservatory.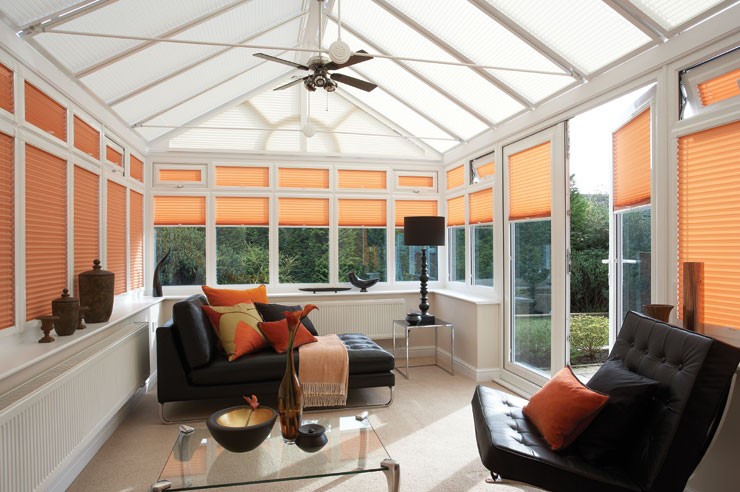 Vertical blinds
Given just how long conservatory windows can be, vertical blinds are the perfect match. They are extremely easy to operate and allow you full control over how much light enters the room, which also means you will be able to closely monitor how hot the room gets in summer. Also, given that vertical blinds extend horizontally rather than vertically, vertical blinds can be installed over doors without causing any frustration. 
Roman blinds
If you're looking for a winter warmer set of blinds, Romans might just be what you're looking for. Characterised by a rugged sheet of fabric which extends over your window, Roman blinds bring a touch of ancient class to any room and are a great way to add an insulative layer to your conservatory. Given their robust fabric construction, however, you may find that your conservatory gets quite hot in the summer. If this is something that concerns you, you might be better off choosing a more versatile set of blinds.
Roller blinds
Roller blinds are a simple, functional option which can act as a very effective shield against the sun. However, while they may be very good when it comes to keep your conservatory cool in the summer, they may not let much in the way of light through. What's more, if you opt for a brightly-patterned set, you may find that the sun's UV rays will eventually cause them to fade, so that's something to consider.
Venetian blinds
Venetian blinds are characterised by their elegant horizontal slats and often look fantastic in a conservatory setting. Much like vertical blinds, Venetian blinds give you complete control over how much light enters the room which, in turn, means you have much more control over the temperature of the room too. Given that you can tilt the slats at the pull of a cord, Venetian blinds are easy to use and are certainly worth considering.
If you opt for a wooden set of Venetian blinds, you will also receive a further benefit. If you often leave the door open in your conservatory, a gentle breeze can cause wooden Venetian blinds to make a wonderfully calming clacking sound. While this might helps towards temperature regulation, we think it's worth considering!
Conclusion
To strike a perfect balance between temperature regulation and light filtration, we would recommend opting for either vertical or Venetian blinds for your conservatory, however, the choice is entirely yours!
Looking for a set of conservatory blinds to help you regulate the temperature this summer? We can help.
Here at Fraser James Blinds, we're a leading supplier of bespoke, made-to-measure blinds throughout the Leicester, Coventry, Northampton, Warwick and Stratford areas. We offer blinds in a wealth of styles, design and fabrics. To find your perfect set, get in touch with our team today. We offer all of our customers a fully-personalised service from start to finish.